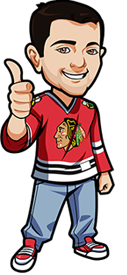 Written by Scott on Thursday, February 24th, 2022
No tips yesterday.
It was no MacKinnon, no problem for the Avs who beat the Wings 5-2.  MacKinnon was out with a lower body injury that wasn't getting better and coach Bednar said he is hopeful that he will be back for Friday's game against the Jets.
The Habs picked up their 4th win in a row when they beat the Sabres 4-0.  Caulfield had a goal and an assist.  Under St. Louis,  Caulfield has 6 goals and 4 assists since Marty got behind the bench.
The Lightning got the win against the Oilers but this was a close one.  The Bolts scored an empty net goal at the end for the 5-3 win.
A busier night with 8 games for us.
Jackets vs Panthers Betting Tips:
This is a hard game to bet on. 
The Panthers are one of the best teams in the league and the odds reflect that.  A Panthers -1.5 play is only 1.62.  If we took the Panthers -2.5 the odds are 2.10.  That's a little better but still we are going with them to win by 3 goals so the odds should be better than that for the risk.
They have played twice this season and both games were big Panthers wins;  9-2 on January 15th and 8-4 on January 31st.
The Jackets have won 3 straight so they will have momentum on their side here and may be able to to keep it close which has me put off of taken the Cats handicap.
The over/under is 7 and with the way both teams are playing of late that would be the only play I can see.  But 7 is a lot and I usually stay away from anything higher than 6.
So the odds make this game a no go for me.
Wild vs Leafs Betting Tips:
The Wild have lost 3 of their last 4 and after falling behind in their last game against the Sens and coming up short they realize that they can't have bad starts in games.
The Leafs have lost 5 of their last 7 games and have picked a bad tike to go on a slump with the playoffs fast approaching.
With both teams not playing their best it makes this game a tough one to call.  They played once this season and it was the Wild winning 4-3 in a shootout back on December 4th.  These teams are close in points,  their last game needed a shootout to be decided and both slumping I feel it is safer to skip this game.
Capitals vs Rangers Betting Tips:
Another game that could go either way.
The Caps have gone 5-5-0 over last 10, the Rangers 6-3-1.
The Caps have won their last 5 road games which is nice until you see that they are 0-5-0 over their last 5 home games.
The Rangers are one point behind Pittsburgh for second place and four points ahead of the fourth-place Capitals.  The Rangers will likely give Shesterkin his seventh consecutive start. He is 24-5-3 with a 2.01 goals-against average and a .939 save percentage this season and huge reason why they have the success they do.
Standings wise this is a big game for both teams so I expect this to be a good one.  Caps road success of late gives them a slight advantage but Shesterkin has been money all year so I have to skip this one too.
Devils vs Penguins Betting Tips:
Much like the Jackets vs Panthers game,  the odds make this unplayable.  The Pens are favorites here.  A Pens -1.5 play is only 1.76.
Both teams are on 2 game losing skids.  This is the 4th and final meeting between these teams this season with the Pens leading the season series 2-1.  The handicap isn't worth the risk as the game before this two game losing skid for the Pens was a 5-4 overtime win against the bad Flyers team.
Stars vs Predators Betting Tips:
A big game here.  The Stars are in 5th in the Central with 58 points in 50 games and the Preds are in 4th in the Central with 62 points in in 50 games.
They have played twice this season with each team picking up a win.
The Preds will be raising Rinne's No. 35 to the rafters, making him the first player in Predators history to receive that honor.  Will the team come out ready to go when their long time starter in honored?
The Stars picked up a win last night against the Jets that was settled in overtime on a goal that was reviewed but deemed a good goal.
With both teams fighting to get into or stay in the playoff picture this should be a good game.  But I can't call a winner as it's anyways guess as to what happens here.
Flames vs Canucks Betting Tips:
The Flames are rolling right now.  They have won 10 games straight.  Of their 10 wins all but the first one were won in regulation.  The first game of this win steak was a 1-0 overtime win against the Canucks.
The Canucks have gone 6-3-1 over their last 10 and are at home where they haven't been that great going 11-10-3.
With the way the Flames are playing its hard to bet agaisnt them and I won't.  To get any value we need to take the Flames in regulation and I'm fine with that.
Flames in regulation
Canada: 2.04 Odds at Sports Interaction
USA: -115 Odds at Bovada
Everyone Else: 1.95 Odds at Bet365
(Odds correct as of 2022/02/24 10:00:37 AM EST but are subject to change.)
Bruins vs Kraken Betting Tips:
The Bruins will be getting Marchand back for this game as he has served his 6 game suspension.
The Bruins are on a 2 game win streak and are on the road where they have gone 13-7-3.  The Kraken have lost their last 5 and are at home where they have gone 9-17-2.
With Marchand back I expect the Bruins to have a big game. He's huge part of the Bruins success and it allows them to roll the lines the usually do.  These teams played once this season and it was a 3-2 Bruins win.
Bruins in regulation
Canada: 1.80 Odds at Sports Interaction
USA: -145 Odds at BetOnline
Everyone Else: 1.68 Odds at Bet365
(Odds correct as of 2022/02/24 10:00:37 AM EST but are subject to change.)
Islanders vs Sharks Betting Tips:
This game has nothing I like.
The Islanders are 4-5-1 over last 10 and are on the road where they have gone 9-10-3.  The Sharks have lost their last 7 games and are at home where they have gone 11-11-3, which is the same as their road record.
With the Sharks on this losing skid I guess the Isles would be the favorite but I have no confidence in either team so I'm skipping this game.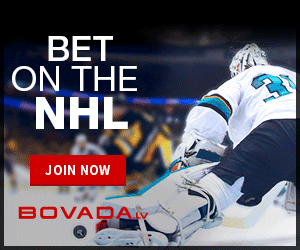 Follow @BetNHL
Good deposit bonus, lot of unique bets & props. Excellent mobile & live betting.

100% to $250 Deposit Bonus, sometimes have really good lines
BetNHL.ca » Tonights Tips » February 24th, 2022 NHL Betting Tips