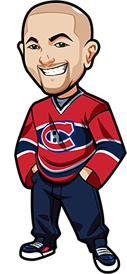 Written by Graeme on Thursday, May 26th, 2022
What an incredible comeback that was by the St. Louis Blues.
They were 3-0 down and looked out of it. We've seen so many final games like that in the past. The result just seems inevitable. The team is down by so many games that they just can't muster that energy to get going again. It looked like both teams were just goin to play it out.
Then boom – the Blues manage to make a massive 3rd period comeback. It all seemed for nothing when when MacKinnon scored a great goal only for St. Louis to tie it up and then get the win.
Amazing stuff. Lost us our in regulation bet but wins me my series bet of over 5.5 games which I thought was done and dusted after Binnington got injured so that's nice.
I really hope the Blues can win Game 6 now.
Let's look at todays games:
Rangers vs Canes Bets:
Scott: This has been a great series so far. The Rangers have won two straight against the Hurricanes after losing eight of the previous nine. The Rangers have won 5 straight home games.
The Canes are 6-0 at home this postseason. One issue they are having is their powerplay has been bad scoring 5 times in 45 chances.
I picked the Rangers to win this series and they still can. But to do so they'll need to win a game in Carolina which is going to be tough.
I have to follow the trend here and back the home team to win. Only one game has needed OT so I'm comfortable taking a regulation win here.
Canes win in regulation
Graeme:Canes in Regulation – 2.15 odds at Bet365
Oilers vs Flames Bets:
Scott: Well the Oilers have the Flames on the verge of elimination. Smith continued his strong play and Kane scored 2 more to give him 12 in 11 games this postseason. The Oilers were up 3-0 and the Flames tied it but the Oilers scored and added an empty net goal for the 5-3 win.
The Flames are at home here and they are going to need the home fans to get them through this game. Smith has outplayed Markstrom so they need to find a way to give him the support he needs. Score early and often to keep the fans in it and then defend.
Flames win incl OT – 1.68 at Sports Interaction
Graeme: I am skipping this one. I don't like backing the over in games where one team is on the verge of elimination. The Flames haven't shown enough for me to back them at such a low price.
I really hope the Flames win to extend this series. I just don't know if they have the mojo to do it. I think not dumping Markstrom in that last game to give Vlad a chance was a big mistake. No Bet.
Follow @BetNHL
BetNHL.ca » Tonights Tips » May 26th, 2022 NHL Betting Tips